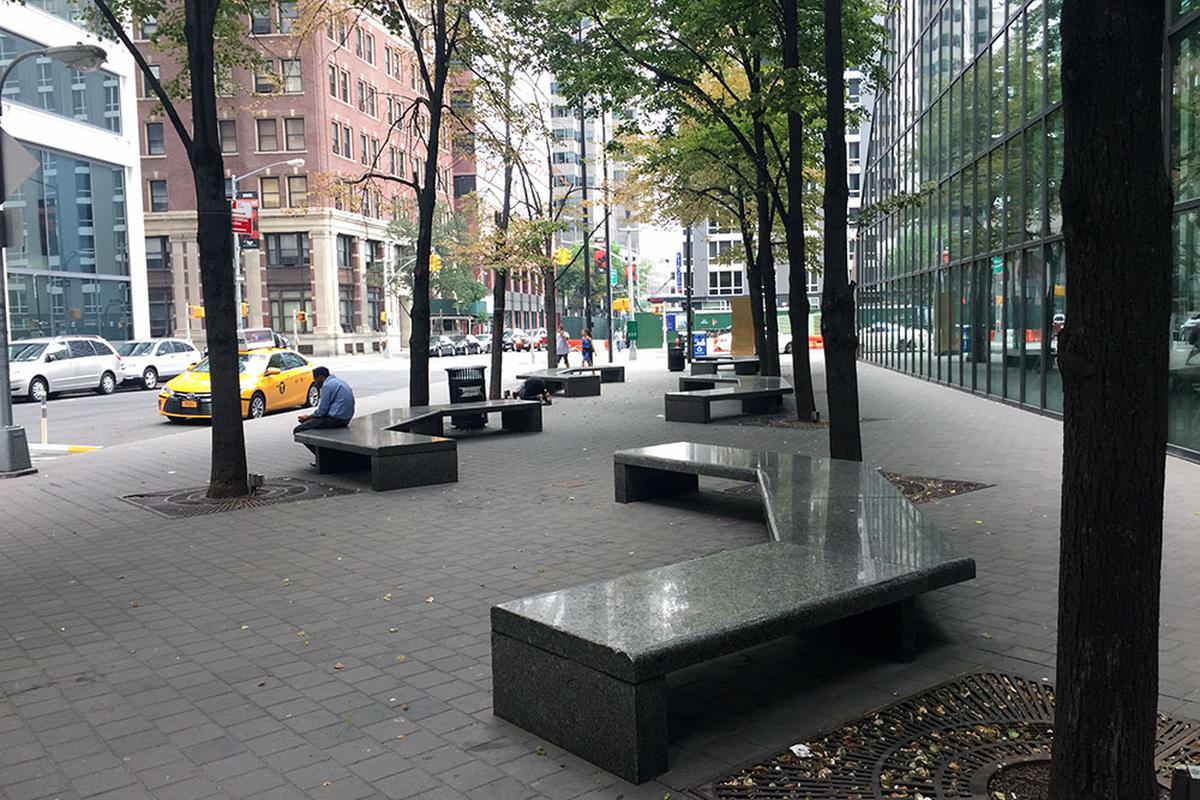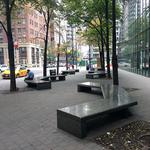 Videos (22)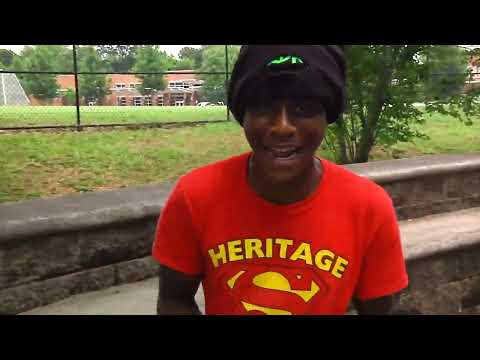 BACKPAIN
Worldformation
• 6 months ago
Rest in peace Nate Stout we love and miss you man. Insta @wrldformation @Halloweentown1998 @thisdeah https://worldformation.bigcartel.com/ EDDIE VARGAS LIAM TIEMEYER DEVEN WHARTON RON PARKER JUSTIN HEARN JACK TABOR ELIJAM SIMMONS ZAY OLIVER LEE ITZCHAKI ZACK KITT JEREMY TURNER HUNTER THOMPSON JOURDYNN SHERMAN GABE FELZ JAIRUS BROWN MILES SKRULL PETE SIMPSON CHINO HENRY JULIAN JENNINGS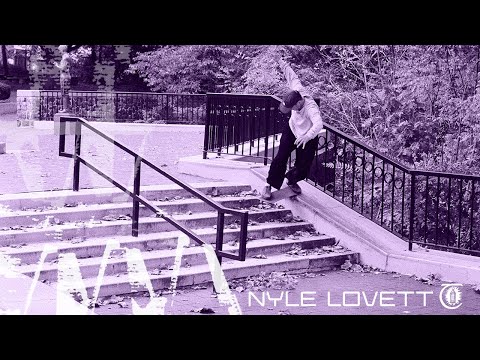 Nyle Lovett's "Pyramid Park" Theories Part
ThrasherMagazine
• 10 months ago
Theories' resident Hoosier focuses his tech talents on the Midwest, unearthing some gems before hitting NYC's iconic spots. Keep up with Thrasher Magazine here: http://www.thrashermagazine.com http://www.facebook.com/thrashermagazine http://www.instagram.com/thrashermag http://www.twitter.com/thrashermag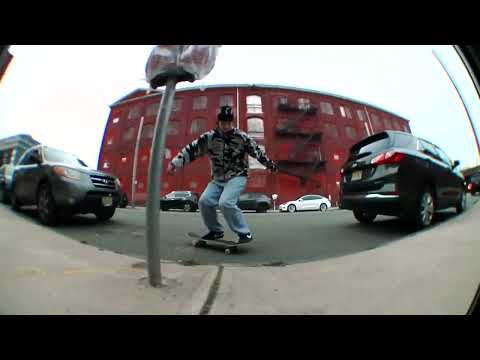 that's my business
Steve Mastorelli
• a year ago
I need dough like anyone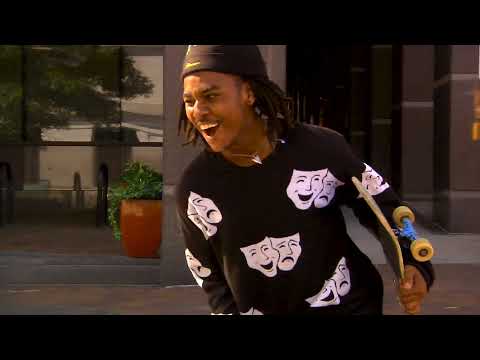 ATLWINGS
Worldformation
• 2 years ago
:)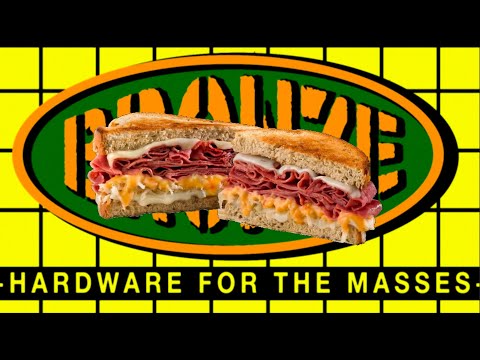 ***THE REUBEN*** (OFFICIAL VIDEO) (HIGH DEFINITION) [BRONZE56K HARDWARE EXCLUSIVE] {VERY RARE}(2K21)
http://www.bronze56k.com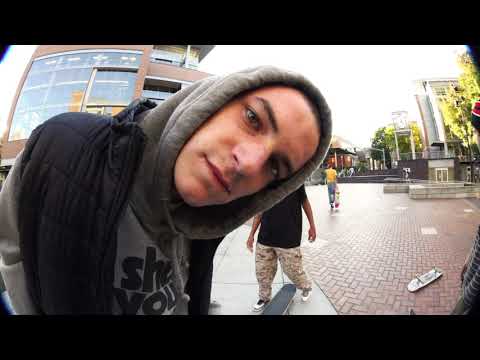 "Skate Juice 3" by Brent Hyden
SKATE JUICE
• 2 years ago
"Skate Juice 3" featuring Brennan Scott, Max McLaughlin, Hugo Lagunas, Ace Pelka, Spencer Semien, Isaac Santana, John Herrera, Dani Torres, Brian Hastings, Gabe Gasanov, Skyler King, Crusty, Jakey Sparkle & more. Filmed by Brent Hyden Edited by Brent Hyden & Hugo Lagunas Art by: Dani Torres Additional Filming: Michael Bell, Hugo Lagunas, Tailor McKay, Shane Darnell, Alex Saxon, Crescencio Fajardo, Grant Thomas, Tyler Marshall-Youd, Kevin Marquez, Steven Page, Cody Smith, Shonn Oquendo, Natalie Guttierez, Tim Vasquez, Menelik Martule, Spencer Semien. Online Shop: https://skatejuice.bigcartel.com 0:00 Start 2:10 Brennan Scott 6:53 Max McLaughlin 11:48 Hugo Lagunas 15:22 Gabe Gasanov 17:55 Ace Pelka 22:45 Spencer Semien 30:19 John Manley, Dyno, Adrian Ortega, Caleb Smith 33:33 Dani Torres 38:00 Friends 42:22 Skyler King 43:29 Brian Hastings 47:04 John Herrera 49:18 Isaac Santana 54:06 Crusty 1:00:09 Jakey Sparkle 1:03:58 Credits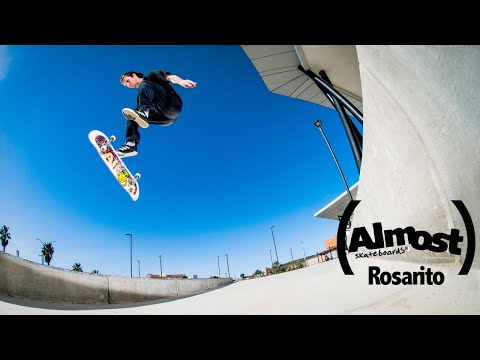 Almost Skateboard's "Rosarito" Video
ThrasherMagazine
• 2 years ago
Tyson, Yuri and the Almost crew deal out a deadly batch of high-tech hammers before Dilo dishes the final blows in NYC. Run it back all you'd like, this one will still throw you. Keep up with Thrasher Magazine here: http://www.thrashermagazine.com http://www.facebook.com/thrashermagazine http://www.instagram.com/thrashermag http://www.twitter.com/thrashermag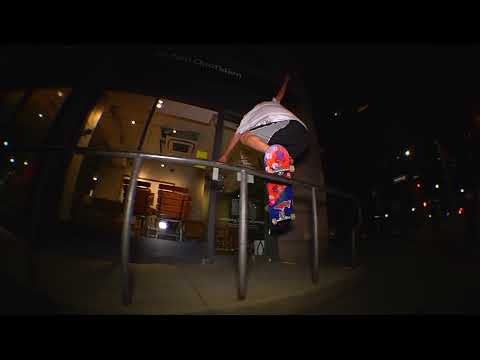 Brian Reid For Grand Collection
Grand Collection
• 2 years ago
Starring: Brian Reid Cameo: Danny Dipalo Filmed and Edited: JP Blair Additional Filming: Tim Savage https://grandcollectionco.com/ Winter: https://youtu.be/dpUtXKXXLgY Grand X Umbro: https://youtu.be/V-WlLBJdpUk Cafe Con Leche: https://youtu.be/VPbTYm-flmk tonal: https://youtu.be/69cU1Drz1RE Grand Collection X Orchard Skate Shop: https://youtu.be/BfaAJq98v9c Brian "Dutchie" Delaney For Grand Collection: https://youtu.be/iXHnVCIgu1A Wade DesArmo For Grand Collection: https://youtu.be/XU1M9moMsbs Connor Champion For Grand Collection: https://youtu.be/t6pdS4o8bqI Pavilion: https://youtu.be/EOkLKMbxcBE Autumn: https://youtu.be/317J_MskfQI Buggy For Grand Collection: https://youtu.be/shPMvG43XfA Cindy: https://youtu.be/NVrmpLsjNO8 Naomi: https://youtu.be/b2IZY2JF-IU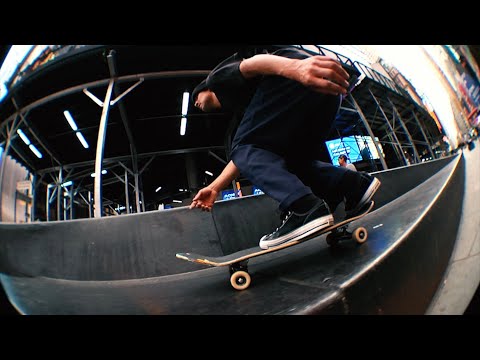 INSIDE JOB
dougie tanner burzinski brandon star steven stinson rahim robinson billy griffin olu carl aikens slack kentaro tristen rowean louie elliot christian henry brandon james john shanahan marcos montoya james gaehner blake norris barco shamp joseph delgado ducky air b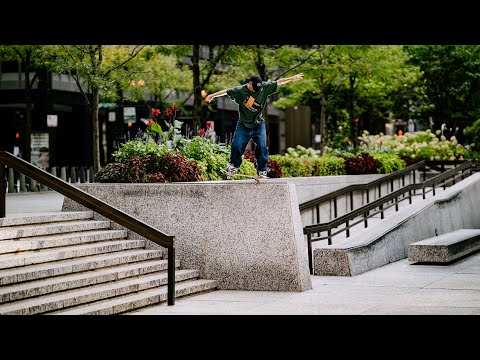 ROUGH CUT: John Shanahan's "Cargo Sneaker" Part
ThrasherMagazine
• 3 years ago
When motivation runs low, make a bet to eat some cat food to reignite the spark. Shanahan gets the clips without chomping on the Meow Mix. Keep up with Thrasher Magazine here: http://www.thrashermagazine.com http://www.facebook.com/thrashermagazine http://www.instagram.com/thrashermag http://www.twitter.com/thrashermag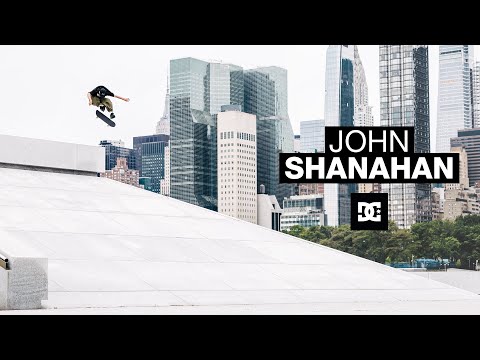 John Shanahan's "Cargo Sneaker" DC Shoes Part
ThrasherMagazine
• 3 years ago
John is a true East Coast expert, completely in command of the busted alleys and classic urban plazas. Absorb his mastery and the grind that graced our cover. Keep up with Thrasher Magazine here: http://www.thrashermagazine.com http://www.facebook.com/thrashermagazine http://www.instagram.com/thrashermag http://www.twitter.com/thrashermag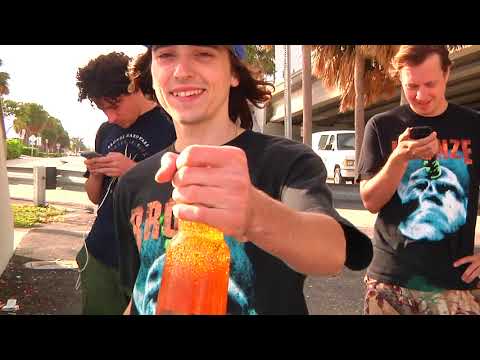 ***2020*** (OFFICIAL PROMO) (BRONZE56K HARDWARE FOR THE MASSES) *HIGH DEF* [THANKS FOR WATCHING]
BRONZE56K.COM MARK HUMIENIK X BERT X IAN MCGRAW X FREDDY X DICK RIZZO X GRADY SMITH X WILL MARSHALL X JORDAN TRAHAN X ADRIAN VEGA X DANNY DIP X BUGGY X JACOPO X B CARROLL X MANCHILD X BRAD CROMER X CUZ X NICK MATTHEWS X DANE BARKER X CHACHI X JOHN SHANAHAN X SHAUN PAUL X BIG MIKE X DOUGIE X JOSEPH DELGADO X SHAWN POWERS X ROB GONYON X KEVIN DAVIS X BILLY MCFEELY X JED ANDERSON X PHIL RODRIEGUEZ X JOSH WILSON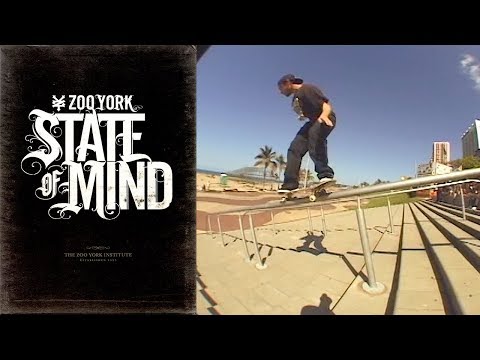 Zoo York "State Of Mind" (2009)
Skate Video Vault
• 4 years ago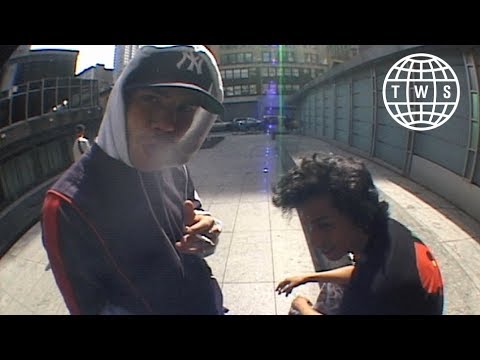 Mean Streets v.13
Transworld Skateboarding
• 4 years ago
Summer in the City means another dose of Mean Streets from NYC. Get in and get loose. Subscribe to TransWorld's YouTube: http://twskate.co/gz8nsr Follow TWS for the latest: Daily videos, photos and more: http://skateboarding.transworld.net/ Like TransWorld SKATEboarding on Facebook: https://www.facebook.com/TransWorldSkate Follow TransWorldSKATE on Instagram: https://instagram.com/transworldskate/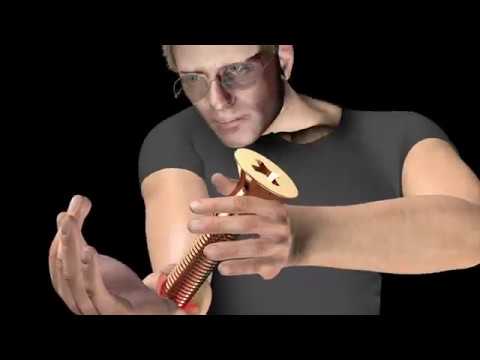 ***IT'S TIME*** (OFFICIAL VIDEO) (HIGH DEFINITION)[BRONZE 56K HARDWARE EXCLUSIVE] {VERY RARE} (2K18)
http://www.bronze56k.com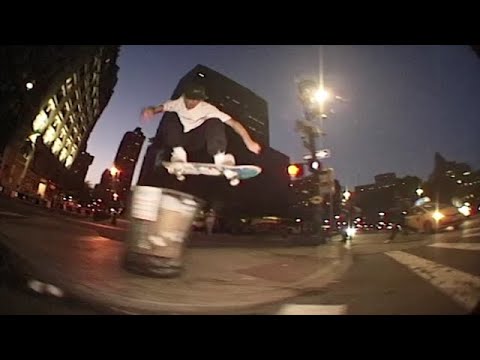 188, Villains | TransWorld SKATEboarding
Transworld Skateboarding
• 6 years ago
Subscribe to TransWorld's YouTube: http://twskate.co/gz8nsr A short video around the streets of NYC and Philly with the Villains team. Juan Virues, Ruben Spelta, Zach Panebianco (those Ollies are nuts!), Juan "Jura" Altora and friends are steady killing it! FILMED & EDITED BY HUGO MIRALLES ADDITIONAL FILMERS JUAN VIRUES & RUB SPELTA LOGO RESOLUTIONS BY ADREA DILLIDDO Follow TWS for the latest: Daily videos, photos and more: http://skateboarding.transworld.net/ Like TransWorld SKATEboarding on Facebook: https://www.facebook.com/TransWorldSkate Follow TransWorldSKATE on Instagram: https://instagram.com/transworldskate/ Follow TransWorldSKATE Twitter: https://twitter.com/TransWorldSKATE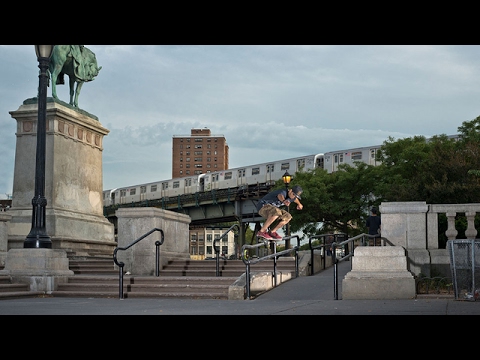 Bruno Aguera and Lindolfo Oliveira Making It Happen | TransWorld SKATEboarding
Transworld Skateboarding
• 6 years ago
Subscribe to TransWorld's YouTube: http://twskate.co/gz8nsr The next part from Ricardo Napoli's NYC indie video, Making It Happen. A shared part with Bruno Aguero and Lindolfo Oliveira. Follow TWS for the latest: Daily videos, photos and more: http://skateboarding.transworld.net/ Like TransWorld SKATEboarding on Facebook: https://www.facebook.com/TransWorldSkate Follow TransWorldSKATE on Instagram: https://instagram.com/transworldskate/ Follow TransWorldSKATE Twitter: https://twitter.com/TransWorldSKATE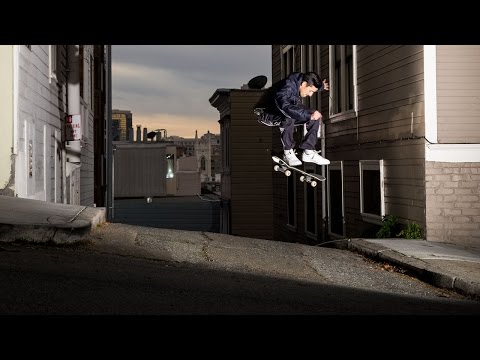 Bronze56k's "plug" Video
ThrasherMagazine
• 7 years ago
56k hit the hills and classic spots of the SF Bay, before jetting back to NYC for side B. Shattered windows and concrete head spins. Welcome to the jungle. Keep up with Thrasher Magazine here: http://www.thrashermagazine.com http://www.facebook.com/thrashermagazine http://www.instagram.com/thrashermag http://www.twitter.com/thrashermag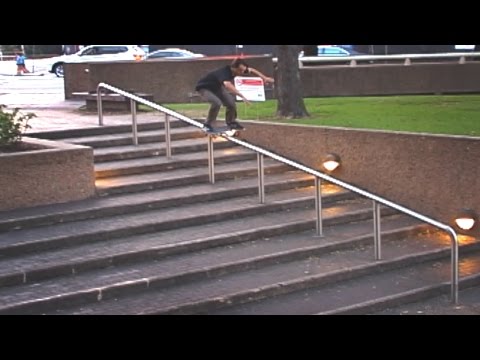 Ryan Thompson's "Steady Rollin" Part
ThrasherMagazine
• 8 years ago
Texas is a pipeline of skateboarding talent, and this new part outta Houston is a shocker, featuring plenty of face-melting moments. You can buy the dvd at http://www.steadyrollin123.bigcartel.com Keep up with Thrasher Magazine here: http://www.thrashermagazine.com http://www.facebook.com/thrashermagazine http://www.instagram.com/thrashermag http://www.twitter.com/thrashermag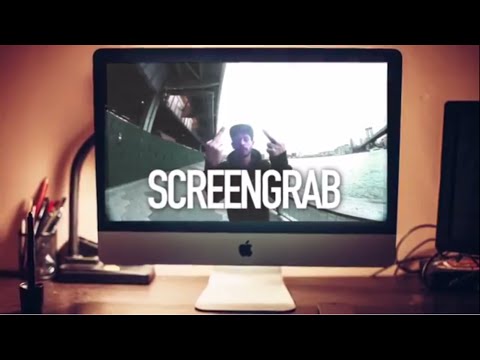 SCREENGRAB - FULL HD SKATEBOARDING VIDEO BY TOM GORELIK
veganxbones
• 8 years ago
Skateboarding video by Tom Gorelik SUBSCRIBE HERE: http://bit.ly/1bMwCCa Screengrab is the latest video from Tom Gorelik a.k.a. Russian Bob. Features a part from Troy Stilwell, Quartersnacks' favorite below-drinking-age caucasian skateboarder. Featuring parts from Ryan Santiago, Kasper Bejoian, Kozo Cavalcanti, David Nelson-Hospers, Chris Pierre-Jacques, Troy Stilwell, and Garret Daly. After being told that a local theater couldn't have any more skate video screenings because 'the staff couldn't handle them anymore,' Tom Gorelik premiered his newest video, Screengrab, by projecting it onto the wall of a handball court underneath the Manhattan Bridge. Now, this is downtown Manhattan in 2015, where the powers that be are very particular about what goes down in public places. When the parks department rolled up, I knew it was done. Nothing. Maybe Kozo Cavalcanti's massive snap deterred them. Ten minutes later a squad car slowed down curiously and I really knew it was done. Nothing. I guess they were impressed by Garret Daly's hurricanes. Or maybe they just didn't mind the conglomeration of fifty or so people—skaters, a surprising number of non-skateboarding girls, and a few old neighborhood locals, crowded around a generator with a speaker and a projector propped up on an overturned trash can. Fuck yeah, New York's still got it. As I felt the crisp October air and heard sounds of trains and traffic on the bridge, I felt the very real, vivid rush of nights passed with that same devil-may-care attitude out in the streets. I watched as a cast of mostly up-and-coming rippers did their thing in those very same streets, with a bit of out west—Massachusetts and California, it's all west from here—thrown in for good measure. I haven't seen so much Seaport ledges in one video, but given the variety of tricks on them, I didn't mind one bit. Two people did tricks that involve shimmying over an obstacle on a ledge they were on. And I dare you to try that no-comply shove it to cross-legged landing. At just twenty minutes in length, the video was able to be looped twice before the cops finally paid a real visit, busting one poor soul who was pissing in the corner because he had an unpaid ticket for being in a park after dark. Fuck, New York's still got it. Watch this then hit the streets for everyone in the Tombs who can't.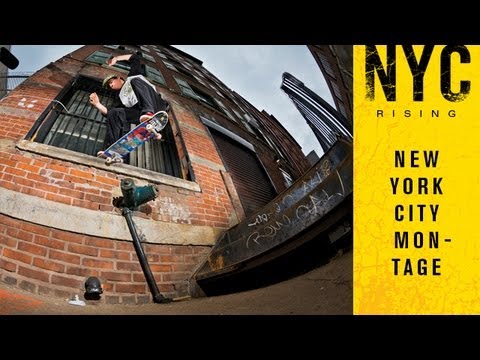 NYC Rising Montage - TransWorld SKATEboarding
Transworld Skateboarding
• 10 years ago
We're capping off our NYC Rising week with this incredible montage of brand new footage from New York City. In order of appearance: Stefan Janoski, Danny Supa, Shawn Powers, Danny Fuenzalida, Ben James, Bjorn Johnston,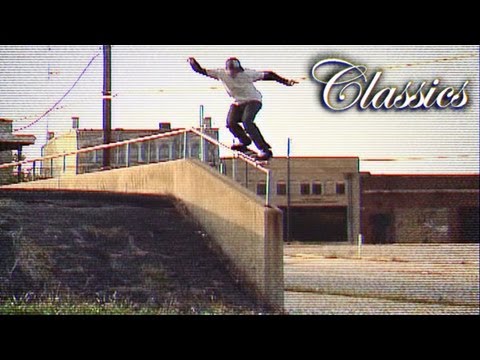 Classics: Anthony Pappalardo Mosaic
ThrasherMagazine
• 12 years ago
Suciu introduces one of his all-time faves: Anthony Pappalardo's 2003 part from Mosaic. Nice taste, Mark.